MARKETS - ATHLETIC FOOTWEAR

We help people move!

MARKETS - ATHLETIC FOOTWEAR

We help people move!

MARKETS - ATHLETIC FOOTWEAR

We help people move!

MARKETS - ATHLETIC FOOTWEAR

We help people move!


Composite Materials for Athletic Footwear

Our Toray CFRT® (Continuous Fiber Reinforced Thermoplastic) composite materials are often used in the construction of athletic footwear, such as running shoes, golf shoes, basketball shoes, and football cleats. Our materials are chosen for their durability, light weight, and ability to provide support and stability to the foot.


The advantages of Toray CFRT® composites in footwear... it's durable, light weight & it provides stability.
One of the main advantages of using composites in athletic footwear is... durability. Composites are resistant to wear and tear, and can withstand the stress and impact of running, jumping, and other high-impact activities. This makes them ideal for use in athletic shoes, where durability and stability are important factors.
Another advantage of composites is... light weight. Athletic footwear can be lightweight to allow the athlete to move quickly and easily. Composites are much lighter than traditional materials used in footwear for structure or propulsion such as plastic alone which makes them ideal for use in athletic shoes.
In addition to their durability and light weight, composites are also able to provide support and stability to the foot. The reinforcement fibers in composites are strong and stiff, which helps to distribute the forces acting on the foot and prevent the shoe from collapsing or losing its shape. This makes them ideal for use in athletic shoes, where support and stability are crucial for performance.

Applications of composite materials in athletic footwear
Features of our composite materials for footwear
Toray is always investing in product development for the athletic footwear market in order to stay on the cutting edge of product development. Our materials have the following properties:

Lightweight
Toray CFRT® materials outperform chopped fibre reinforced or non-reinforced injection moulded materials in terms of performance and weight. They give increased stability and support while remaining lightweight and thin enough to reduce athlete strain and tension.


Resilient
Toray CFRT® composite materials' resilience (spring or responsiveness) effect assures they return to their original shape after millions of cycles, decreasing foot strain and damage while increasing performance with spring in each step.

Design Freedom
We know you need flexibility in a product to meet your design specifications. The Toray AmberTool® family of tooling prepregs offers Tgs from 162°C to 213°C, out life up to 30 days, and cure from as low as 40°C, offering you significant design freedom.

Recyclable
Toray Cetex® thermoplastic composites are not only storable at room temperature, they are re-formable and recyclable, making them an ideal choice for aerostructures programs that have a longer life-cycle requirement to minimize environmental impact. 
Product Formats
Continually investing in product development, we have a portfolio of thermoplastic materials that have been developed specifically for use within footwear, sport, and recreation applications.

Toray CFRT Thermoplastic Laminates
Toray laminates are offered in a variety of colors and patterns to match your design and strength/cost requirements.

Toray CFRT Thermoplastic UD Tape
Toray uni-directional (UD) thermoplastic tapes provide the lightest weight and highest strengths available in composite technology. UD tapes are combined into easy-to-use laminates, providing rigidity, support, and comfort while enhancing performance.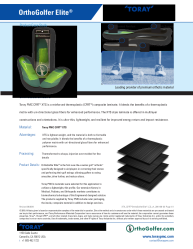 Case study: OrthoGolfer Elite®
OrthoGolfer Elite® is the first over-the-counter golf "orthotic" specifically designed to aid players in correcting their stance and perfecting their golf swings: allowing golfers to swing smoother, drive further, and reduce slices.

Toray PMC's materials were selected for this application to achieve a lightweight, thin profile.

Do you need help? Contact us!
Are you looking for a composite laminate solution for athletic footwear? Please don't hesitate to contact us! You can reach us by email, by phone or connect with us on LinkedIn. We would love to hear from you.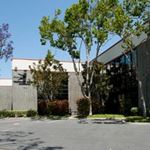 Toray Performance Materials Corporation USA