MARKETS - CONSUMER ELECTRONICS

We Make you Mobile

MARKETS - CONSUMER ELECTRONICS

We Make you Mobile


Composite Materials for Consumer Electronics

Advanced composites from Toray protect all kinds of electronical devices, keeping them on the move. Lightweight, thin, strong, scratch resistant, fire retardant, and cosmetically appealing, thermoplastic composites from Toray are the cost-effective casing solution for the next generation of electronics.


Innovative, lightweight, and cost-effective solutions for the next generation of electronics.

Continuous fiber reinforced thermoplastics (CFRT®) from Toray integrate with high-volume manufacturing processes including one-shot compression molding and injection overmolding to deliver tough, protective, and cosmetically superior structural enclosures for laptops, handheld devices, and tablets.
With production facilities in North America, Europe, and Asia, Toray is capable of supporting the needs of turnkey manufacturing on a global scale.
Features of our composite materials for consumer electronics
Toray is always investing in product development for the consumer electronics market in order to stay on the cutting edge of product development. Our materials have the following properties:

High Volume Production
Toray's CFRT® thermoplastic laminates can easily facilitate production volumes of 100,000 units or more. Fiber reinforced thermoplastic laminates are heat formed in minutes to their final shape, allowing completion details such as ribs, clips, and brackets to be injection overmolded into the final part shape.

High Strength
Toray CFRT® thermoplastic laminates contain durable carbon fiber for high-strength performance while the thermoplastic resin matrix provides impact resistance, UL-94 flammability standard retardancy, and an appealing surface finish.

Thermal Barrier
Today's laptops run hotter, leaving metal bases transferring heat to a user's lap. Toray's thermoplastic composites dissipate heat, allowing for a cooler base and greater comfort during laptop use.

Engineered Reinforced Orientation
The fiber architecture of Toray CFRT consolidated thermoplastic laminates is designed to our customers' detailed specifications, optimizing strength and stiffness. Uni-directional tapes are used for strength in specific directions while fabrics provide the bulk necessary for part rigidity.

Recyclable
As stewards of the environment, Toray developed its thermoplastic composites to be recovered for use in alternate parts, allowing 100% utilization of the raw material. Toray actively participates in programs with customers and research groups to develop new recycling techniques and applications.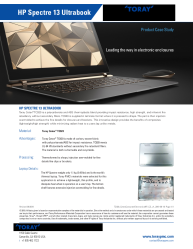 Case study: HP Spectre 13 Ultrabook
The HP Spectre weighs only 1.1 kg (2.45 lbs) and is the world's thinnest laptop. Toray's materials were selected to achieve a lightweight, thin profile and to dissipate heat when in operation on a user's lap.
Do you need help? Contact us!
Are you looking for a composite laminate solution for athletic footwear? Please don't hesitate to contact us! You can reach us by email, by phone or connect with us on LinkedIn. We would love to hear from you.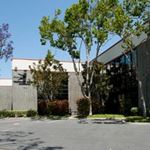 Toray Performance Materials Corporation USA