MARKETS - SPORTS & RECREATION

Materials in Motion!

MARKETS - SPORTS & RECREATION

Materials in Motion!


Composite Solutions for the Sports and Recreation Industry

Toray's advanced composite solutions for the sports and recreational industry provide some of the lightest and strongest materials for sporting good applications. Stronger and lighter than metals, more durable than plastics, Toray materials deliver ultimate performance to all athletes.


The advantages of Toray CFRT® composites in sports and recreational products

Composite materials are often used in the manufacturing of sports and recreational products due to their unique combination of properties. These materials are made up of two or more different materials, such as fibers and a resin, that are combined to create a new material with improved characteristics.
One of the main advantages of using composite materials in sports and recreational products is their strength and durability. These materials are able to withstand the high stresses and impacts that are common in many sports, making them ideal for use in items such as bicycle frames, skis, and snowboards. Composite materials are also lightweight, which is important for sports equipment that needs to be portable and easy to handle.
In addition to their strength and durability, composite materials are also resistant to fatigue and corrosion, making them a good choice for products that are used frequently or in harsh environments. They are also resistant to temperature changes, which is important for sports and recreational products that may be used in extreme conditions.
Features of our composite materials for sports and recreation
Toray is always investing in product development for the athletic footwear market in order to stay on the cutting edge of product development. Our materials have the following properties:

Impact Resistant
Toray materials are impact resistant, giving them the competitive, durable edge in paddles, backpack frames, bats, racquets, and golf club heads and shafts.

Lightweight
Toray thermoset and thermoplastic prepregs offer a 40% weight reduction over aluminum, making them the material of choice in high-end recreational equipment where durability and every ounce counts.

Stiffness
Toray advanced composites are extremely rigid and durable, allowing the fabrication of high-strength items including backpack frames, tent poles, or paddles.
Product Formats
Continually investing in product development, we have a portfolio of thermoplastic materials that have been developed specifically for use within footwear, sport, and recreation applications.

Toray Thermoset Prepregs
Toray's thermoset prepregs may be cured under vacuum-bag-only pressure in ovens, reducing the processing cost over autoclave-cured prepregs. Toray's materials are also designed with long out times and selective products may be snap cured to facilitate large volume recreational applications. Toray's epoxy prepregs are toughened to provide durability and impact resistance.

Toray Cetex Thermoplastics
Toray Cetex and CFRT thermoplastics are ideal for recreational applications. Resin systems like nylon and PET are low cost and amenable to high-volume manufacturing.  Applications include bats, shafts, paddles, and more. 

Toray Cetex and CFRT Thermoplastic Laminates
Toray Cetex and CFRT brand thermoplastic laminates represent multi-ply oriented panels. These panels can then be cut and thermoformed to shape in fast 5–10 minute thermoforming cycles.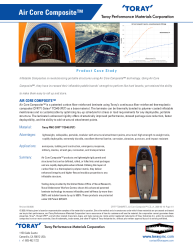 Case study: Air Core Composite™
Inflatable Composites is revolutionizing portable structures using Air Core Composite™ technology. Using Air Core Composite™, they have increased their inflatable paddle boards' strength to perform like hard boards, yet retained the ability to make them easy to roll up and store.

Air Core Composite™ is a patented carbon fiber reinforced laminate using Toray's continuous fiber reinforced thermoplastic composite (CFRT®) Cetex® TC940 (PET) as a base material.

Do you need help? Contact us!
Are you looking for a composite laminate solution for sports and recreational products? Please don't hesitate to contact us! You can reach us by email, by phone or connect with us on LinkedIn. We would love to hear from you.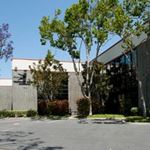 Toray Performance Materials Corporation USA